Member of the Związek Kynologiczny w Polsce (FCI) since 2005 and of the Beagle Club Deutschland (VDH)/(FCI) since 2001.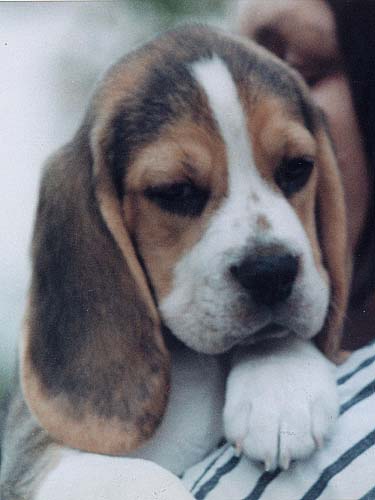 My parents and I bought our first Beagle
"Boss"
in summer 1997 at family Chodorowicz (kennel
Pan Chod
) in Wrocław/Poland. Boss was from the beginning on a typical Beagle: greedy and stubborn, however always in a good mood, dear and a real gentleman towards all people and dogs. Owing to his extremely high intelligence and his "will to please", it was quite easy to train him. In 1998 awaked in me the desire to present Boss also on dog shows. Boss' marvellous exterior was one reason for it: the small clumsy youngster became an elegant, bone-strong Beagle with a balanced and beautiful head and an expression, which makes each heart melt….Therefore it does not surprise that Boss could obtain some show successes: several times best of breed, numerous champion certificates and he became Polish Champion in year 2000 and Luxembourg Champion in 2001. I do not show Boss anymore since the time I moved out from my parents because of my studies and Boss stayed with them as their "youngest child".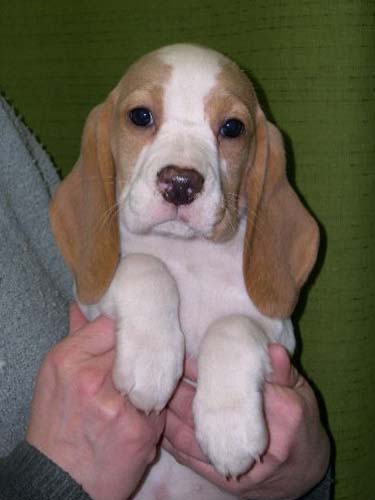 Then followed some years without a Beagle - I must admit: there was a lacking something. And therefore I decided in 2003: I have to get a new Beagle!!! Only where from?! Boss had some promising puppies in several litters, but I had not thought of a second Beagle at this time. After careful consideration I decided to get another Beagle from Boss' breeding line. I estimate in particular the temperament, the health and the type of this line. And in such a way, I contacted Mrs Anna Krejzková in Czech Republic to inform me about her planned litters. She told me about her plans and I decided then for the litter of CH Zak Tergy and CH Xandy Tergy. Xandy is one of Boss' half sisters and I already noticed her on shows in 1998 when she was presented in the youth class. Since this time she was shown with great success and got many champion titles. It was now my desire to have a two-coloured daughter of Xandy. After many photos in the first weeks and a visit in Zbiroh/Czech Republic in February 2004 the decision fell on the red/white girl
I'm Love Tergy
, called
"Holly"
. I got Holly in May 2004 and to my big surprise the little girl turned out to be not very similar to Boss: quite sensitive, submissive but also very affectionate. In the meantime, she changed a lot: Holly is now a bitch that is quite self-confident and dominant, but also easy to handle, however she still loves to cuddle. She is also very active and there is no obstacle for her, if she wants to follow me! On dog shows Holly, despite many outstanding qualities like e.g. a wonderful feminine head with nearly perfect details, was never as successful as Boss or Xandy, but shows are fun for her and so we try our luck in the ring from time to time….
Consequently, I decided to start my Beagle breeding, which will always remain on a small scale, with these two wonderful and unique dogs. My dogs will FOREVER remain equal family members, I am very grateful for and which I love from the bottom of my heart.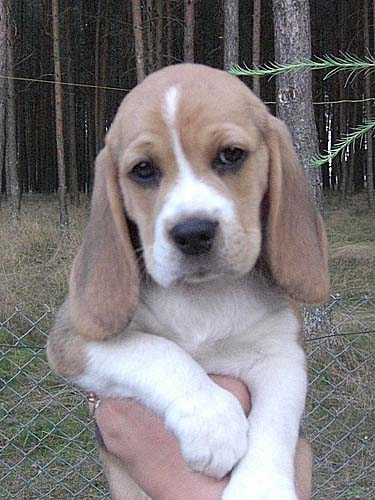 In my second litter of Boss and Holly in 2007, there was a very promising tricolour dog, which I called
Cevaytis Black Jack
. I liked Jack very much; not only his exterior but also his temperament convinced me. And so it was easy to decide that I would keep him. Our first shows have been always a little "adventure": Jack is very self-confident and playful in the ring and the handling was not easy, but the conditions are there that he will present himself better in the future. In everyday life, Jack really makes a lot of fun and I think this is the most important thing!
In the same year in which Jack was born, I imported from Australia some frozen semen of two very beautiful champion dogs - Kislev Irish whiskey ( "Mannie") and Kislev Gambling Man ( "Jack"), breeder and owner: Sharen Bell (Kislev Beagles).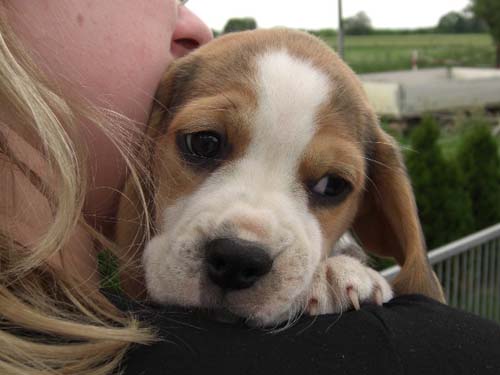 I hope to refresh my breeding line through these two dogs and to combine the advantages of both lines. So I asked Monika Hahnenberg (Beagles von der Tomburg) whether she might not make a litter of her beautiful bitch Tammy von der Tomburg and Mannie. Since Tammy is a granddaughter of Boss, a puppy from such a mating would be ideal for me. Monika agreed immediately and the first half Australian litter of Tammy was born in March 2008. From this litter, I decided on the charming bitch Elandra, who will join our team in summer 2008. I am very curious to see how the little girl will develop…. I want especially to thank Sharen, who certainly had o lot of trouble but also a lot of understanding, for that my plans come true. Many thanks also to Monika for supporting my project so much as well as for entrusting me
Elandra
.
I am really looking forward to the future with the old and new Cevaytis-family members!
Text and photos copyright &copy by Cevaytis Beagles